COURSES DON'T EXPIRE
Dance! Flexibility Makeover Master Class Series Includes 17 Intensive Courses For Cheer, Gymnastics, Acro, Circus Arts, Ballet, Synchro, Performers & All Performing Arts Purchase Special Offer Now For Only $289.00
All Bundle Packages Include Private Facebook Group to ask Stacey questions
Stacey talks about this powerful package
S
ome O
f The exceptional Talent Stacey Guides Through Her Flexibility System In This Package Series.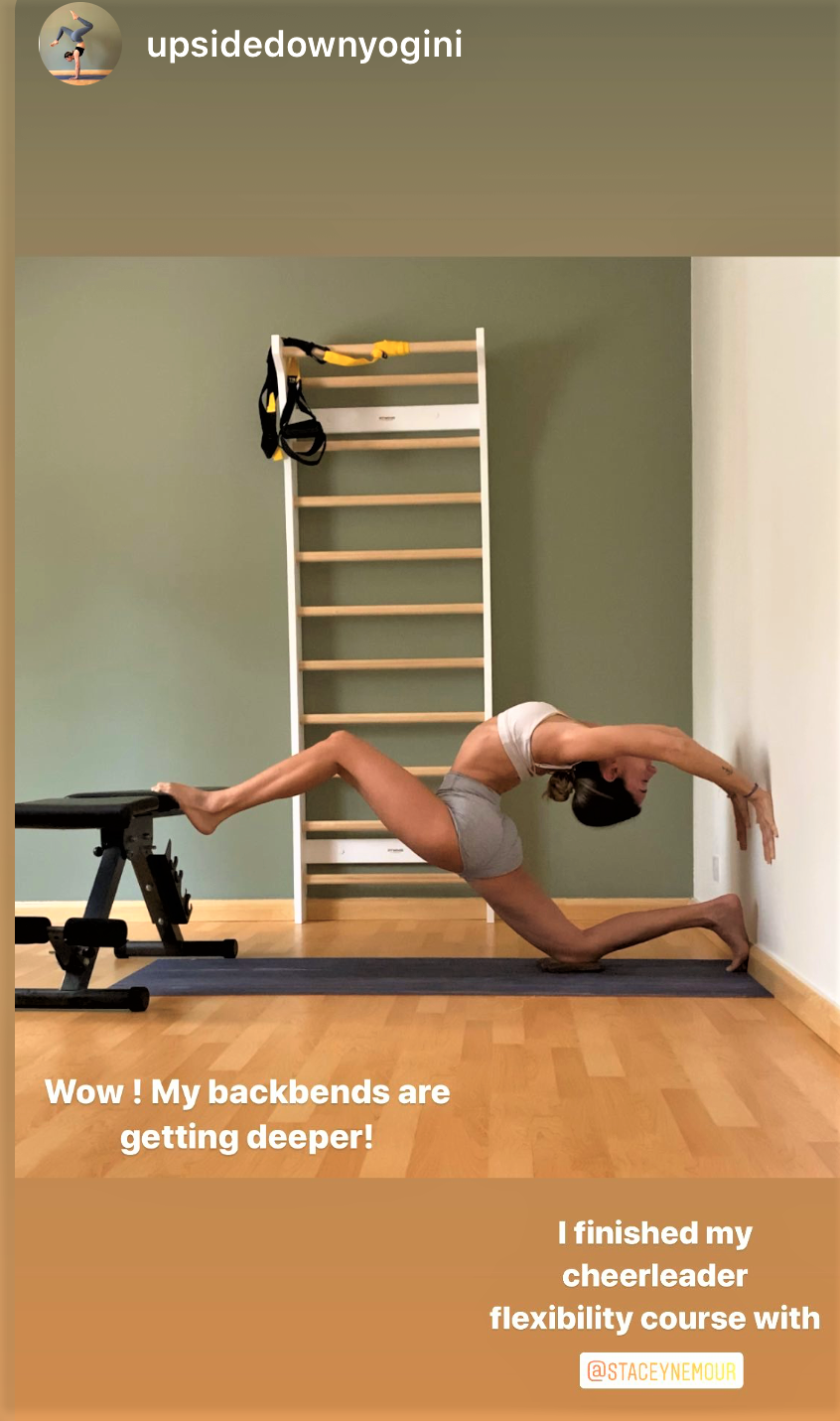 Yoga Instructor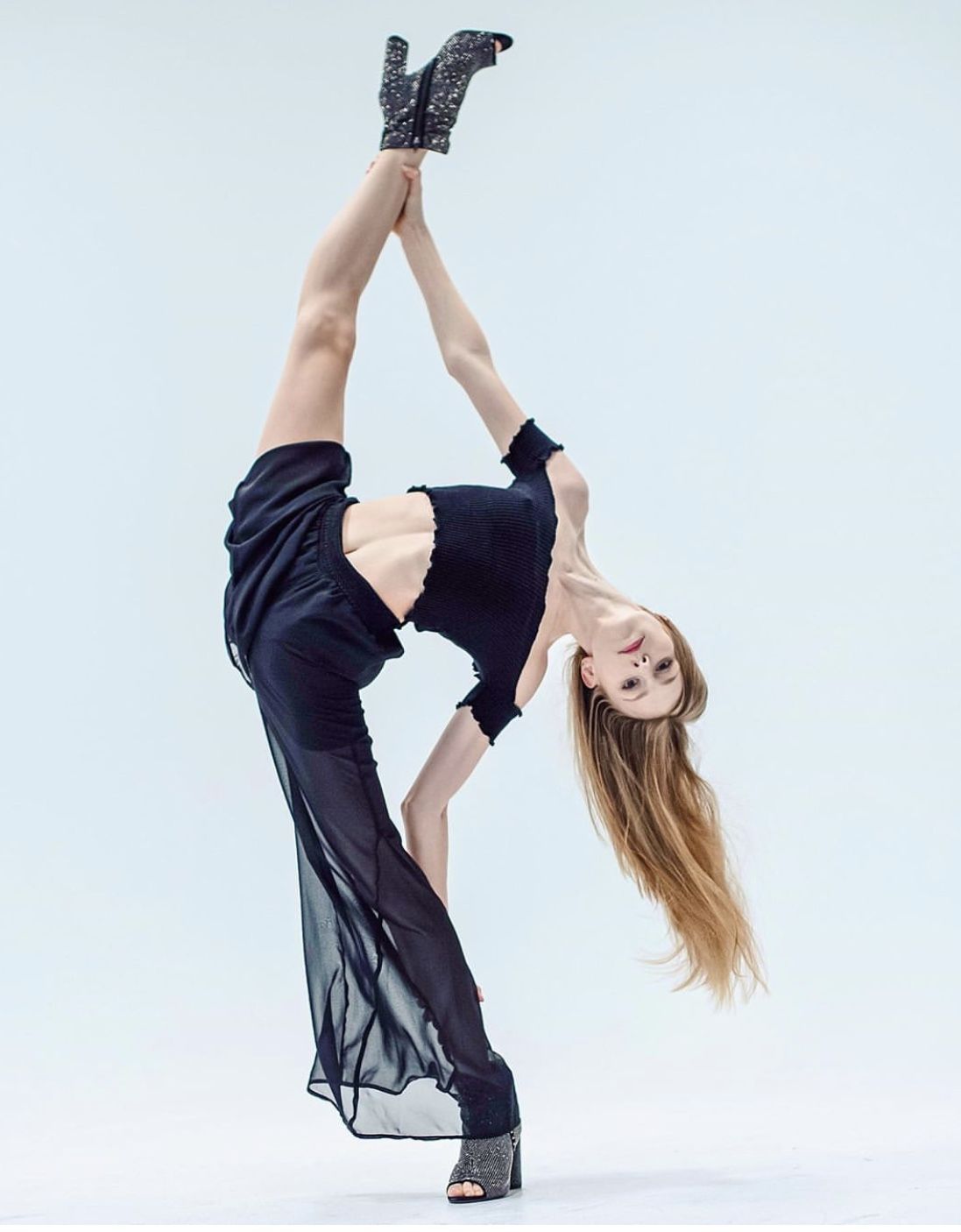 "I've been doing your program and look what I got! I'm so grateful for you" Farrah Pre-Pro Ballet Dancer TDA Top 10, Beijing IBCC, YAGP #2 X 3 Photo Credit: Heather Elizabeth Lehman
These are all before & after results from course member who trained with "Extensions For Days"(Included in Bundle Series) Just 1 Time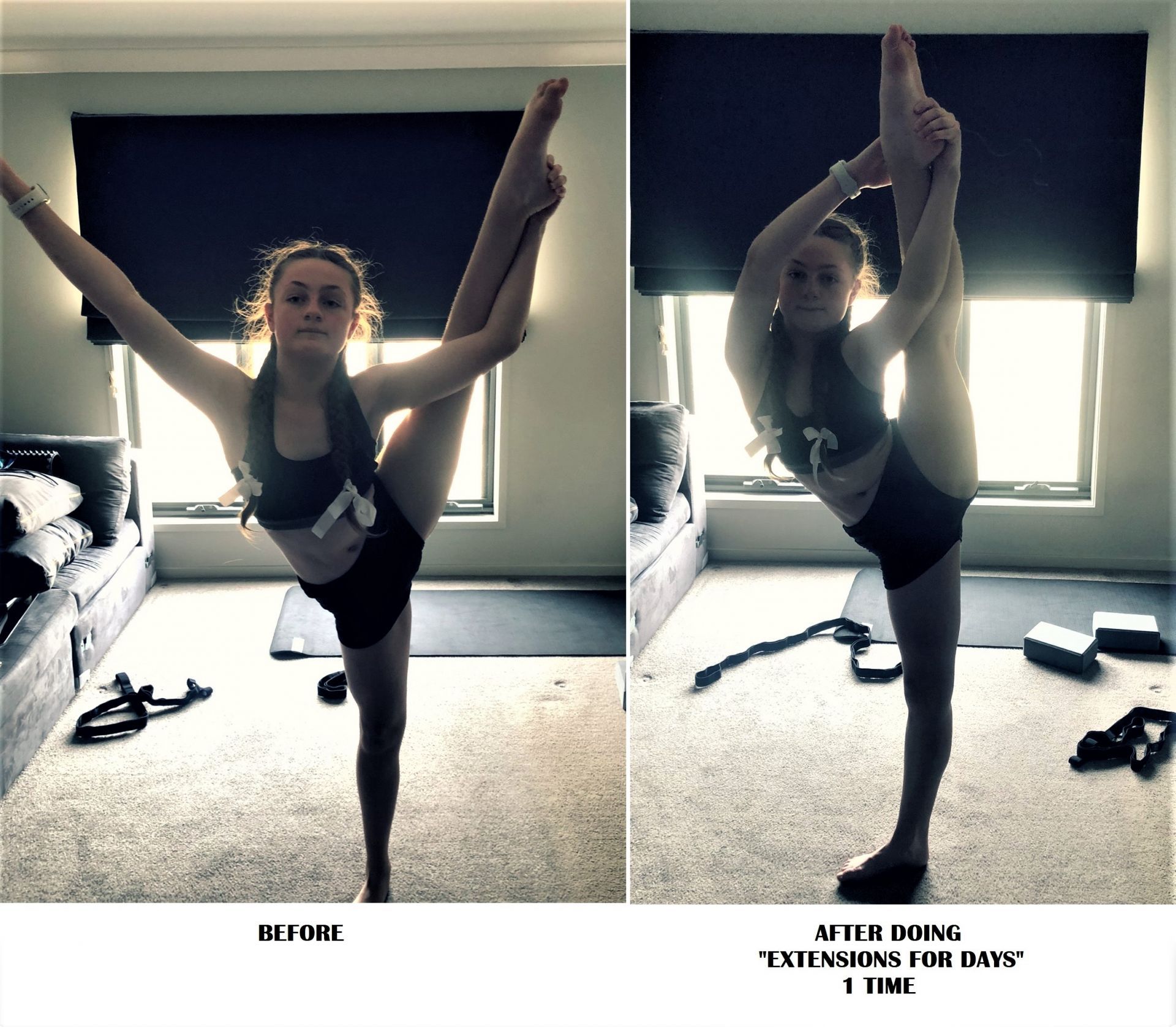 Dancer Elektra will continue to train with all the course in Dance! Flexibility Master Class Series to always be competition and performance ready
Course Feedback:
Testimonial "Elektra completed the "Extensions for Days" course yesterday and really noticed a big difference! We're so excited for her progress! I've attached some pics .The before shots were right before the course and then afterward - such amazing progress! I was particularly impressed with the position of her body in the straddle splits pictures - her back is so much flatter and you can really see the nice stretch she is getting! Thanks just isn't enough! Liv xx " She's using 2 Stacey Stretch Strap that goes with system to double spotting power !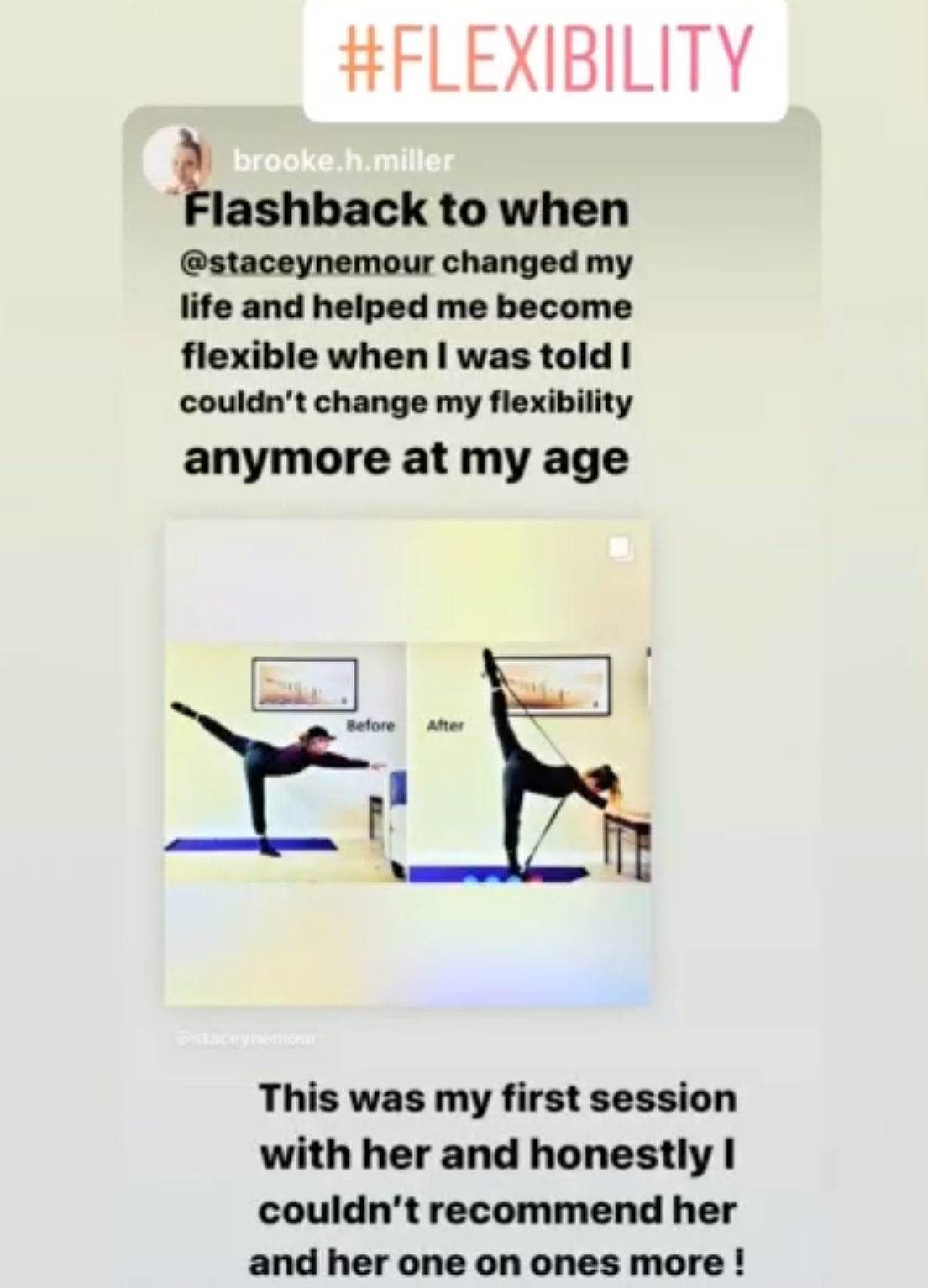 Results when Brooke professional dancer & performer trained with Stacey's System 1 time.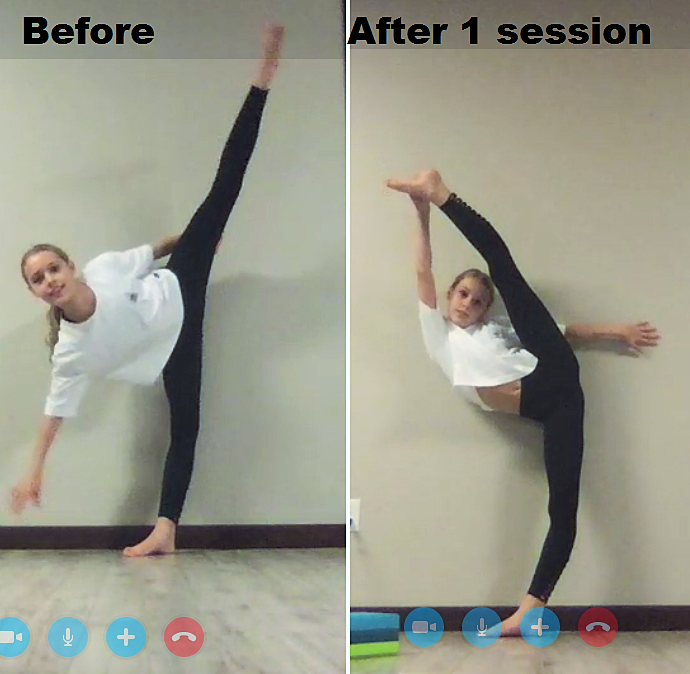 Results when competitive dancer Chloe trained with Stacey's System 1 time. Your flexibility solution to moving past stuck plateaus, pain & stiffness in mind & body.
Extensions For Days
Preview: In this program learn how to improve extensions, all splits arabesque, penche, back-arch, toe point, leg holds, clear pain & injuires due to tightness and not knowing how to truly open up your entire mind & body! Be Audition Ready. Competition Ready. Performance Ready.
Testimonial from this beautiful model in Morocco @hk.369 She was overjoyed that she was able to fully get into this position after training with "Cheerleaders Complete Flexibility System"
"Thank you Stacey! It's all about the little tricks you give. I really like your program. Without knowing all the details you give, you can not do the exercises perfectly.
" She will continue to train with the rest of the courses in the Dance! Flexibility Makeover Master Class Series.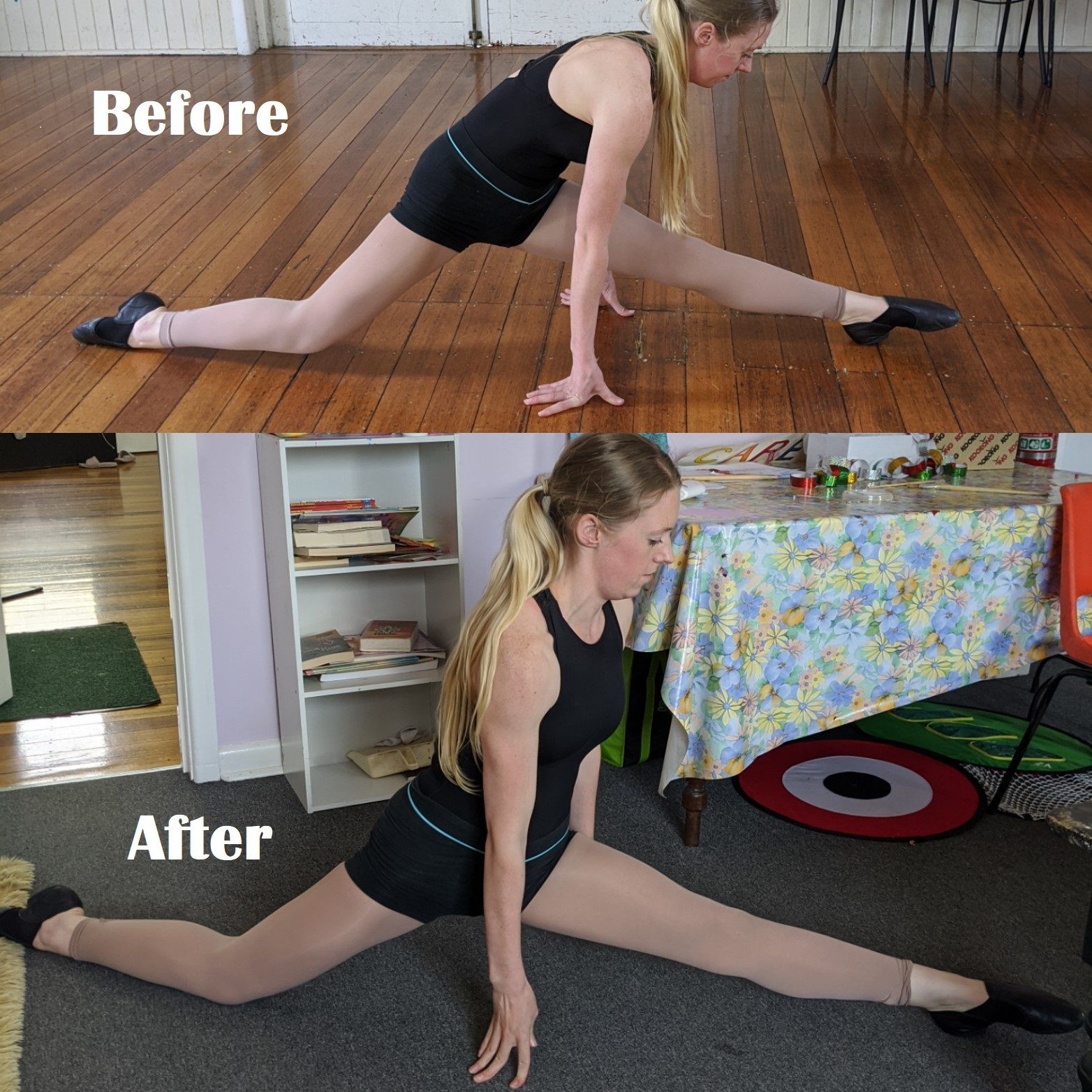 Before & after results from 1 training with course 1 time, from member Dancer Bianca. Training with "Flexibility Makeover For Dancers Held Back by Tightness". Available on it's own. Also included In Beginner's Bundle Series & Dance! Flexibility Makeover Power Series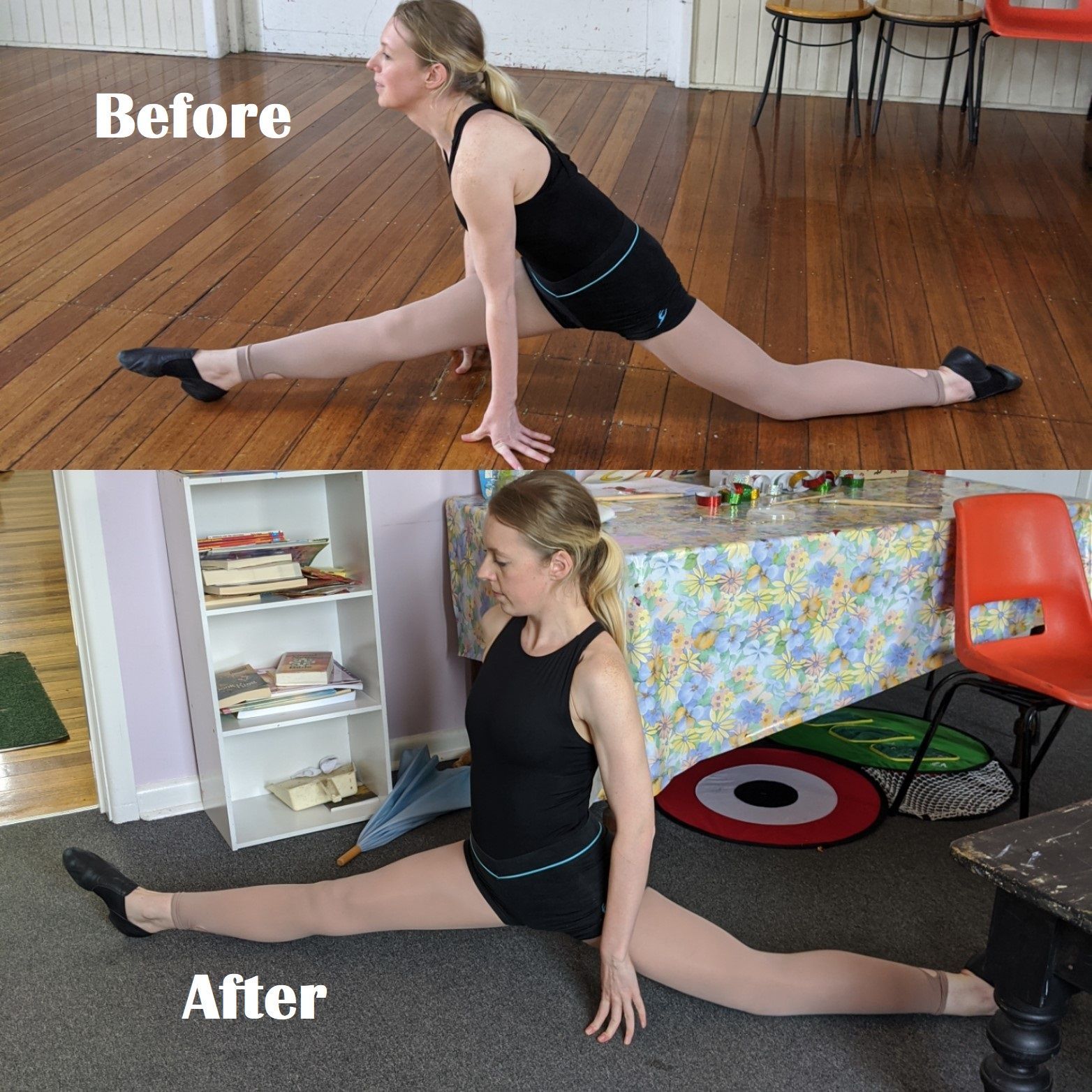 Testimonial: "I'm 25 years old and needed to prepare
for Dance Company performance. Here's my splits progress from just doing course 1 time with your Stacey Stretch Strap. Thank you Stacey" Bianca C
athro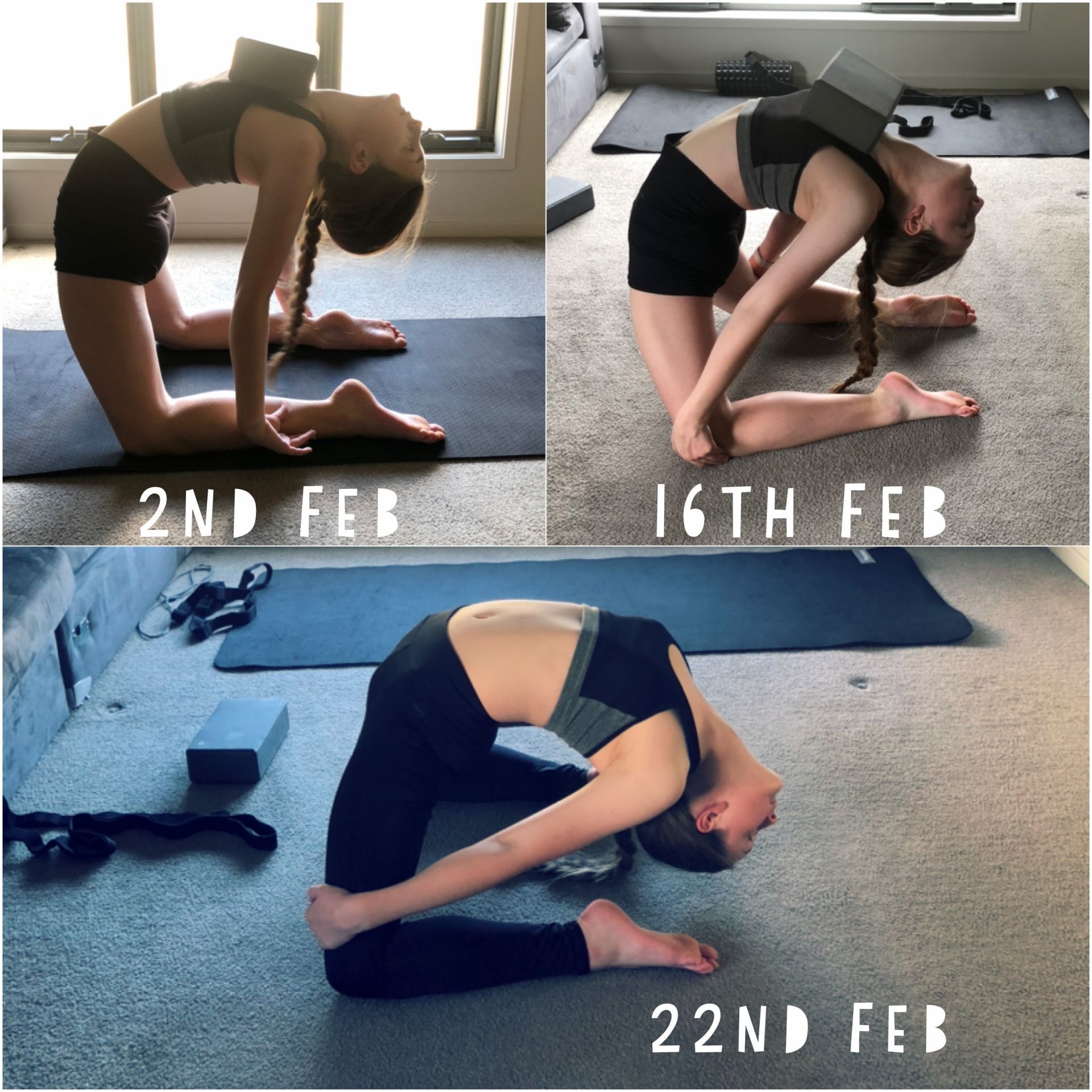 From Dancer Elektra with "Cheerleaders Complete Flexibility Training System"

"Elektra completed the Cheerleaders Complete Flexibility today. She was feeling it from yesterday from her private Skype session with you. But pushed through, as she knew it would help those muscles! We took a few pics - not the best quality sorry but I've attached some for you to see. These were all before, during and after the Cheerleaders module today. It's amazing to see so much progress can be made with your system! She is so excited with this new knowledge on how her body works and the kind of stretches she needs to achieve her goals - we truly cannot thank you enough for sharing your expertise!Can't wait to share more progress over the coming weeks and months!"

Liv x
"The Cheerleaders Complete Flexibility System" is available on its own and included in the Dance! Flexibility Makeover Master Class Series which you can purchase on this page!
D
a
nce! F
lexibility Makeover Power Pack
Before & After Results from professional Indian Ballroom Dancer Uttara Vaidya
"I am 39 yrs old now and my body has not been the most flexible As a professional dancer who got into ballroom dance sport late Stacey's courses has given me a good stretching routine & structure yielding great results. I highly recommend! Thank you Stacey! " @indianballroom dancerShe is enrolled in the Dance! Flexibility Master Class Bundle Series & started with the 1st course "Flexibility Makeover For Dancers Held Back By Tightness"
Before & After Results Performer @gypsyjoys after doing "The Cheerleaders Complete Flexibility System" program 1 time. She's enrolled in "Dance! Flexibility Makeover Power Bundle Series" "Def improvement just did the cheerleader series! This was when I did my show last time big difference already! I'll get more straighter n leg more back a few more sesh. Stacey stretch works fast!!!"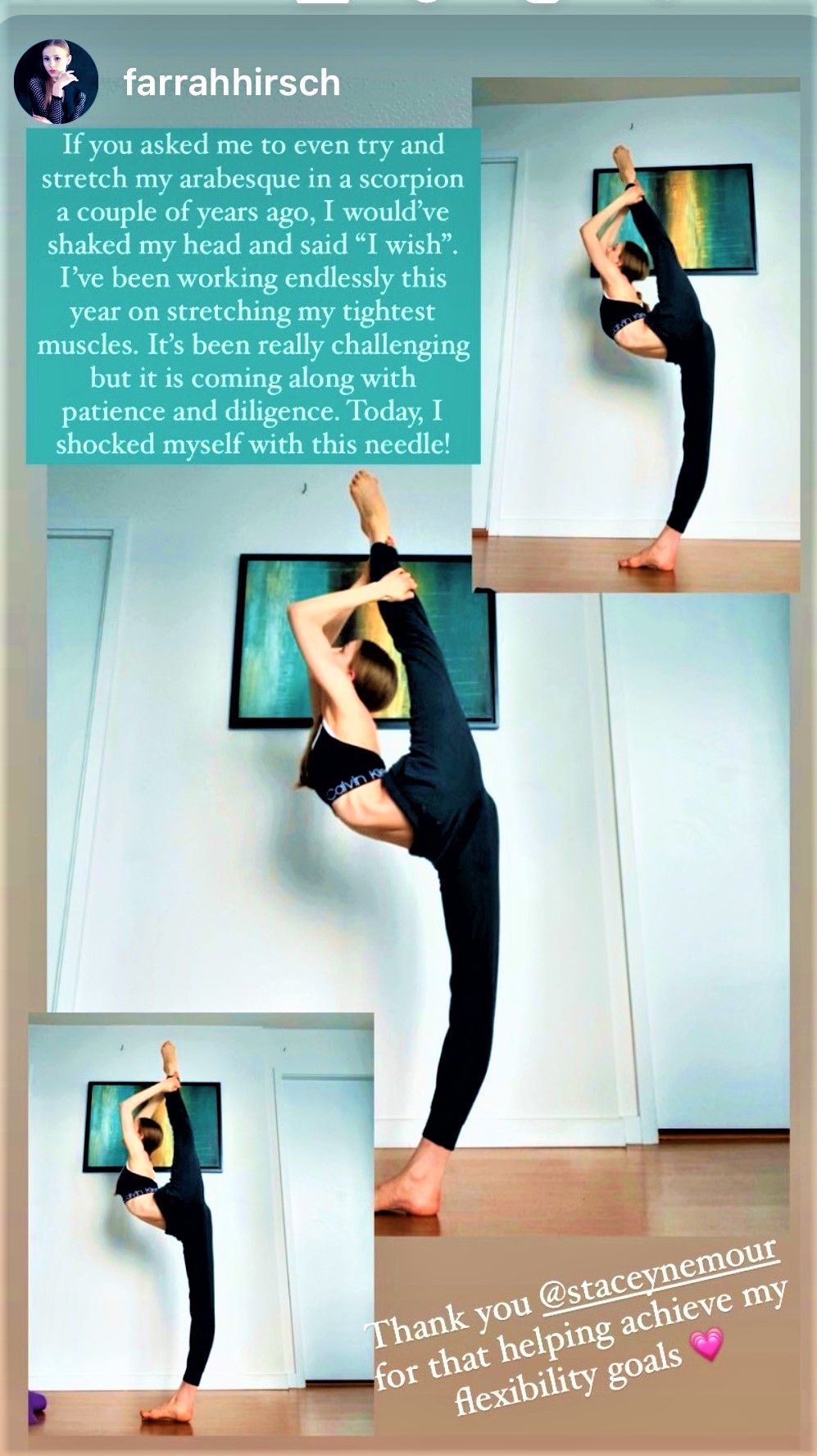 These are not even all the results! This could be you. Ready to move past stuck plateaus? Stacey 's Flexibility Makeover Programs are Raw and Real..Just like the Results
Actual Before/After Results that happened organically during all the filmed in person & Skype sessions in the Dance! Flexibility Makeover Power Series. All in 1 session with the exception of last photo, which was part 2 in the series. But, you will have access to that very session as well. This could be you! The Stacey Stretch Strap is designed to yeild maximum results to create new muscle memory to take your performance to new heights.
Preview Results From 1 Filmed Skype Session 1 of the 15 intensives included
Complete Flexibility Makeover For Competitive Dancers - With KayLee Bell Intermediate - Very Advanced. 1:14 In this intensive besides overall increased flexibility & ROM - emphasis on turn-out, back arch, chest stand, extensions, leg-holds & penche
Testimonial: "Thank you so much!!!! We are both so happy with the progress she made last night!!!! I don't think I have ever seen her happier. She has such determination and it is heartbreaking as a parent to see them hit a wall that they just can't seem to break though. You have taught her how to do that and we are eternally grateful. She was so excited to see the progress in those pictures. KayLee just absolutely loves you and can't stop talking about how amazing you are!!!! Brittany Bell"
KayLee Bell is 12 years old. She started dancing at 2 years old and has been competing since age 5. She trains in all forms of dance, but especially enjoys contemporary, jazz and acro. In her free time she is usually found choreographing her own pieces or working on flexibility training. She has received numerous overall, first place, judges choice and title awards. Her goal is to dance for a university and become a professional dancer and choreographer. She can't wait to see where her passion and hard work takes her.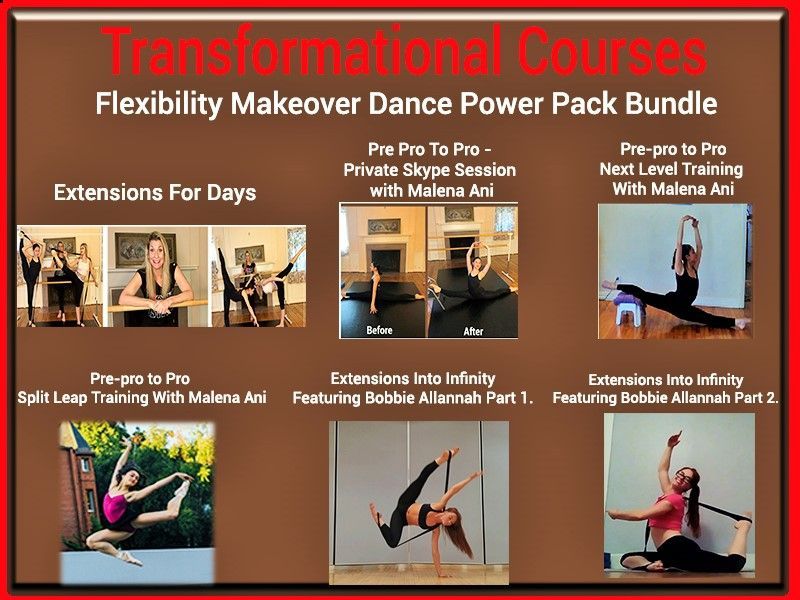 Dance! Super Flexibility Makeover Master Class Series includes 17 Transformational Courses "Extensions for Days" Pre-pro to Pro next level training (filmed private Skype session) ballet dancer Malena Ani
There's more, Filmed Flexibility Makeover Skype session with competitive dancer Brenna, after being guided through all the necessary deep shift-shape stretches Stacey takes Brenna even further practicing critical competition moves preparing her right before Nationals! This will help you to move past long standing plateaus, so you may perform at your highest capacity & be competition ready for critical auditions, Nutcracker season, on stage and film. Ideal for dancers, rhythmic gymnast, circus artist, cheerleaders, figure skaters, competitive dancers, martial artists and any sport that requires extreme flexibility, while helping to clear pain, speed up healing and prevent injuries.
Included is "Flexibility Makeover for Dancers held back by Tightness" It doesn't stop there! "Flexibility Makeover for the Complete Cheerleader" & Flexibility Makeover for Complete Gymnast with Elite gymnast Sierra Kaplan's filmed Skype with Stacey preparing her right before Nationals!
Flexibility Makeover - Rhythmic Gymnastics Series 1 & 2 with 11 year old Naomi . She was competing in Rhythmic Gymnastics & cast in La Sylphide with the Los Angeles Ballet. This 2 part series with 2nd complete bonus course. Series 2 Session 2 : We continue to work on deep hips openers, excellent for turn out, clearing back, hip & knee pain & increasing range of motion. Another focus is on Naomi's tight feet & clearing the tightness going all the way up into the hamstring. This brought tremendous results in her front developpe, which was something she really needed to improve. This also covers back-arch, extensions & over-splits
"Flexibility Makeover with Top Female High Diver" Lysanne Richard a Red Bull Cliff Diver & Cirque du Soleil Performer. This includes a bonus 33 minute warm up for her to do pool side to warm up before critical competitions & performances. Stacey guides her to clear a previous neck injury and improve hamstring flexibility for pike dive. Focus is also on improving back arch.
There's more!! 2 Filmed Private Filmed Skype Session with Synchronized Swimmer (Flyer) Jessica Sobrino Member of the National Team – Team Mexico – Central American Champion Pan American Champion on route to Olympics in Tokyo In this session the focus besides over-all flexibility is she needed to improve splits, toe point and back arch to be able to score as high as possible! In this follow up 2nd filmed Skype session we go deeper Focusing more to improve the back arch, toe point, stretching/ strengthening for range of motion in the pool opening shoulders, critical help for over-splits upside in the pool. Including, exercises to protect knees. Stacey has many years experience with coaching Synchronized Swimmers to soar at competitions and performances
Complete Flexibility Makeover For Competitive Dancers Intermediate - Very Advanced. In this filmed Skype intensive besides overall increased flexibility & ROM - focus on turn-out
, back arch, ch
est stand, extensions, leg-holds & penche
Stacey's best selling "Secrets of Splits & Flexibility 1 & 2 & Extreme Flexibility For Pro-Athletes & Teams is included. The original 36 minute version of Secrets is a perfect shorter warm-up before class, competition, auditions and performances.
Results Happen During Filmed Skype. "Ella has always struggled with flexibility to the point where she believed she wasn't going to ever get her splits. After just one session with you, she was almost down to the floor. We cannot thank you enough for you skill and technique, but more importantly, your kindness and encouragement of Ella during the session. She loved every minute of it. " This session Included in this package. This could be you!
Secrets Of Splits & Flexibility 1 & 2 Are Included in Dance Power Pack Series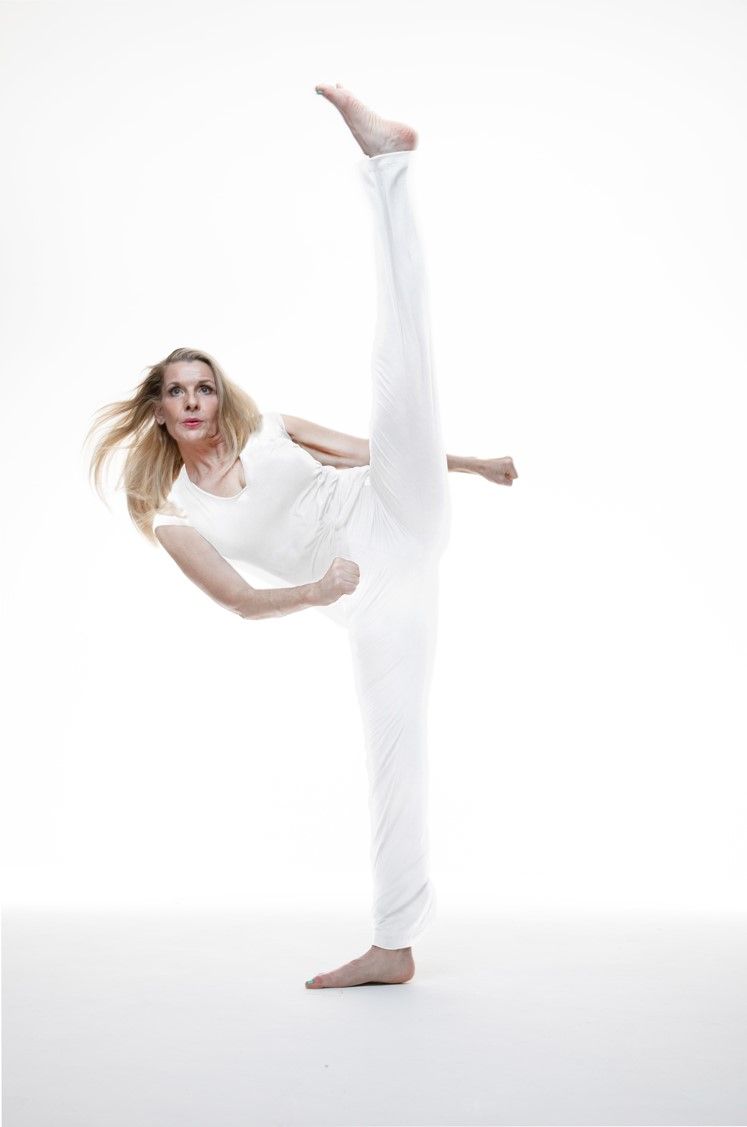 Meet
STACEY NEMOUR


Stacey is a world renowned flexibility master. She has been an International flexibility coach to top athletes : Olympians, professional dancers, Cirque Du Soleil performers, established actors, UFC champion Victor Belfort and Carlson Gracie Team and more! With over 30 years of experience, she has touched the lives of thousands of athletes to individuals who want better posture, range of motion, injury rehab, injury prevention and be competition ready to live out their wildest dreams in their art or sports performance She has been an action actress: including guest lead on Power Rangers and motion capture video games using her understanding of how to maximize range of motion with perfect alignment. She has contributed over 30+ articles to the Huffington Post and has been featured in many publications. Stacey can be seen in five issues of Kung Fu magazine. Stacey began her career by achieving a black belt in Kung Fu. Flexibility coaching found her when top athletes and performers sought her out after seeing her kicking with spectacular range of motion i n her performance. Stacey specializes in mind-body-spirit flexibility training to unleash the highest potential within every individual that follows her step-by-step proven system. Her extensive experience is highlighted in these courses, designed to get you the same results as the top professionals.
Join the Flex
ibility Movement! Sign up to Immediately Improve Your Flexibility.
How To Get Highest Results
Preview of how Stacey sets the tone to get the most out of her flexibility programs!
Guaranteed Security using one of the most advanced encrypted systems on the market.
The information in this page is being processed and encrypted securely using industry-leading encryption and fraud prevention tools.
Created with